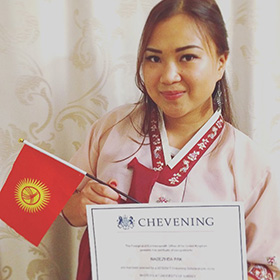 Bishkek, Kyrgyzstan, born in Nukus, Uzbekistan
University of Surrey, Chevening Scholar. Major — MSc Air Transport Management
Why have you decided to study in the UK?
— Combination of high quality education with exposure to immense diversity and opportunity to learn from world's top industry people has great impact on making decision in selecting Master programmes. My university is amongst top universities in the UK and in the world, alumni from university of Surrey become top leaders.
I have applied for Chevening in 2015 and became the finalist with other 6 fellow scholars from Kyrgyzstan. This is a truly amazing journey which will inevitably have a long lasting impact on my future career. I highly recommend young leaders to apply for Chevening in the future.
Why have you chosen given specialisation and given educational institution?
— It was April of 2015 when I envisioned my desired career path — to become a differentiating factor in aviation industry and top industry professional. Deeply sharing this attitude keeps me inspired. The School of Hospitality and Tourism Management is ranked #1 in the U.K. by the Guardian University Guide 2018 and the Complete University Guide 2017. University of Surrey is ranked number 4 in the Guardian University Guide 2017, 10 in the Times Higher Education Table,11 in the Complete University Guide,18 in the QS league table of the World's highest-performing universities under 50 years old. Certainly, school ranking plays a role in selecting university and programme.
What do you remember the most about studying in the UK?
— Intensity and a lot of work =) Master degree in the U.K. is a one-year programme which includes dissertation as well. There is a huge reliance on self-study and self-organization. I think that the most memorable aspect of my U.K. education experience is becoming independent, organized and being able to manage time effectively due to constrains and deadlines. Also, grading system is very different in the U.K.'s institutions. I had to adjust to new environment and quickly understand the requirements here. It was great fun!
How did your studies help you so far?
— I have started internships and volunteered at industry events here in London and Manchester. I tried to implement my knowledge immediately after joining my programme to combine both academic and professional lives together. Most certainly, knowledge received during this year was absolutely great, challenging and eyes opening.
What will you advise to students who would like to apply for Chevening scholarship?
— Do not be afraid to try, prepare yourself for the programme in advance, read as much as it is possible about the programme and it's goals — feel it. I just immersed myself into understanding of Chevening and understood that I can fit the great aims it pursues. Work on self-improvement, innovate and participate — do more that it is required and be genuinely interested in doing so. I think this is the most important thing — to start with your very self.
What would you like to advise future students who would like to study in the UK?
— I only wish to realize your potential with goals you have set. This is very fulfilling. The feeling of fulfillment gives confidence and opens new doors by default. Do not be afraid to try and learn as much as possible about the world around you. It is none of anybody's business but yours and you are to build your life really. Sounds cliche but it is true if you are independent person.
Whatever you guys choose to study in the U.K. or anywhere — do it well and make plans for yourself. Plans change over time, especially when so many new things start occurring, nonetheless, knowing your purpose (at least very vaguely but understanding you have one), will drive you and make you.