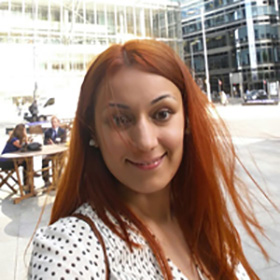 Bukhara, Uzbekistan
MA in International Management
Studying in the UK will provide a unique opportunity to develop your knowledge and skills . Most Universities have high quality courses and access to wealth of information as the University libraries are open 24/7.
Most importantly teachers want you to develop your analytical and creative thinking skills therefore the courses and assignments are designed so that it requires a lot research, analysis and problem solving. These skills are paramount to get into a successful careerin business and finance.
I liked the content of the course and the fact that you develop your knowledge not only in the theoretical sphere but also in the practical sphere.
Diversity is another appealing factor, as you will end up studying with student from different cultures and background. In my group we had students from Spain, Greece, Hong Kong, Taiwan and UK. It was rathera mixture group of people and you will learn a lot from each other. Continues group work, intense studying socialising events are some of my sweet memories while studying in the UK.
It built my confidence and knowledge in all aspect of life. I felt more independent and motivated to start my career in Financial Sector.
I work as a Relationship Support Manager in Corporate Banking. I look after Corporate clients in ProfessionalServices Industry.
First of all, I wouldrecommend to study the field that would interest you the most. Organising and participating in different events, networking , intense studying and great focus will help you for your future career.